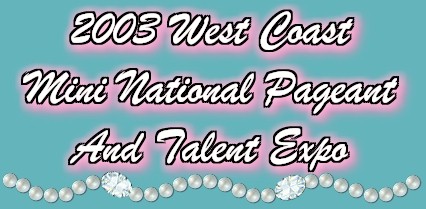 OPTIONAL FUNDRAISER: PROGRAM BOOK AD SALES
ALL ADS & AD PAYMENTS ARE DUE NO LATER THAN MARCH 28, 2003!
Full Page $150.00 Half Page $90.00
Quarter Page $ 50.00 Business Card $25.00
Good Luck Sponsor Page $100.00
May include photo and well wishes. Limit: one Good Luck page per contestant.
Business ad sponsors may make business checks payable to Universal International.
Mail ads and ad payments to: Universal CA, PO BOX 3038, Napa, CA 94558

Upon receipt of ad and 100% Ad payment, we will calculate credits for each participant. Each participant will receive 80% credit for the first 5 pages of sponsor ad sold to apply toward payment of West Coast Mini National entry fees and 2 nights hotel lodging. After that, contestant will receive 50% credit for all additional ads sold towards qualifying to win 2003 West Coast Grand Ambassador. Excess contestant credits earned may be used toward entry fees to future Universal Miss and Master International Pageants. The remaining ad revenues are used by Universal California to fund the Program Book ad placement costs, sponsor the Grand Ambassador Award, and assist in sponsoring extra West Coast awards.

New Contestant Referral Program

We offer discounts off your entry fees for each new contestant you refer who
enters the pageant. Referral(s) may not have previously entered Universal
International Finals, Universal West Coast Mini National or Universal CA
Regional pageants. They may have entered a past preliminary pageant. Referrals
must list your name on their entry form as their referring source. Upon request,
we will provide additional entry forms for your referrals. Discount does not
apply to registration fee. Up to 3 referrals: $25 credit discounts off any package
per referral. 4 or more referrals: any one package entry is FREE!

Sibling Discounts
We offer 50% sibling discounts. The first contestant pays 100% of fees.
After that each siblingpays 50% of fees for same or less expensive package.
No other discounts apply.

ENTRY DEADLINES AND GENERAL INFORMATION
All West Coast Contestants Must Pre Register!
DOOR ENTRIES WILL NOT BE ACCEPTED!


ON TIME ENTRY REWARDS!
FREE! FREE! FREE! FREE! FREE! FREE! FREE! FREE!
REWARDS FOR ENTERING BY 3/28/03!

¬ FREE ENTRY to Overall Most Beautiful, Supreme Title!

¬ FREE ENTRY to the West Coast Mini National Program Book photo
contest categories!
(1) FREE photo entry for Cover/Back Cover! (back
cover is 1st alternate to cover)
(1) FREE photo entry for Centerfold!
Late entries NOT accepted due to judging/printing schedules!

¬ (1) FREE photo entry to Pride of Pageantry West Coast Supreme Photogenic!
Late entries NOT accepted due to judging/printing schedules!

¬ Roster Photo included in the West Coast Program Book, if entered by
deadline.
¬ First entry to each division receives their choice in line up! After first
entry - last in/first out, unless volunteering to be first in line up.

Mary Jean and Susan, California State
Universal Miss & Master International Directors

Contestant roster photo, Program Book and Pride of Pageantry
Supreme Photogenic category photo entries, entry forms and $75
mandatory registration fee are all due no later than 3/28/03! B/W
or Color: sizes 5X7, 8X10 or 9X12 are all acceptable. We prefer
scanned photo submissions for the Program Book and Pride of
Pageantry Supreme Photogenic categories submitted by email in best
quality JPEG format to UMMICA@YAHOO.COM. These are due
no later than 3/28/03! All Cover, Back Cover, and Centerfold photos
are judged on the Internet. We also accept mailed photo entries and
load them to our photo judging web pages. Please insure mailed
photos for full value. We are not responsible for photos lost in the
mail. Mailed photo submissions for Program Book and Pride of
Pageantry Supreme photogenic categories will be returned at the
pageant registration table. Headshots for divisional photogenic
scoring are submitted at pageant registration and returned
immediately following the pageant!


LATE REGISTRATIONS: ENTERING AFTER 3/28/03
* Contestants may continue to register to enter the pageant from 3/29/03
through 4/08/03.
* Late registrations miss all On Time Entry Rewards and deadline for
entering the free Program Book Cover, Back Cover & Centerfold and
the Pride of Pageantry Supreme Photogenic categories, and free On Time
Reward entry to the Overall Most Beautiful - Supreme. However, they
remain eligible to enter Overall Most Beautiful by paying the $35 entry
fee for this add on Supreme Title.
* Late registrations are also subject to paying a $25 late entry fee.
*Please Contact Directors of planning to enter past the 3/28/03 deadline.

HOTEL ROOM RESERVATIONS

A block of rooms have been reserved for West Coast Mini National
contestants who want hotel accommodations at our host hotel, Holiday Inn
North East. Mention Universal International when making your
reservations to receive the group discount rate of $79.00 per night.
Amenities include pool, spa, exercise room, and breakfast meal discounts.
Please make your reservations early to assure room availability and to
avoid paying a higher rate.

Holiday Inn - North East 5321 Date Avenue

Sacramento, CA 95841-2597

Local Phone: 916-338-5800 Toll Free Reservations: 1-800-338-2810

SCHEDULE

Friday, April 11th 6:30 PM– 8:30 PM. Early Registration held in the hotel lobby.

Saturday, April 12th 7:30 AM – 9:30 AM Main Registration held in the hotel lobby.

10:30 AM Beauty Formal Wear

* Optional Off Stage Interview immediately follows beauty formal wear. No additional
attire or grooming required. Interview is being provided solely for enrichment
purposes. Interview scores have no bearing on the outcome of the pageant.
Voluntary participants may sign up at registration.

1:30 PM Talent

7:30 PM Pajama Party

Optional Gift Exchange. Contestants and Visiting Royalty are invited to participate.

Program Book & Pride of Pageantry Supreme Photogenic Award Winners Crowned!

West Coast Mini National Program Books distributed!

Sunday April 13th

9:00 AM Free Style Modeling. Followed by tabulating break.

3:00 PM Crowning and Awards Ceremony!

To be followed by on stage group photos of entire
2003 West Coast Mini National Royalty!

PARTY INFORMATION

Pajama Party Attire:
Contestants may choose to wear modest Pajamas to the Saturday Evening Party! Can be any plain, decorated or princess style pajama sets, sweat style, long night shirts etc!

Optional Contestant and Visiting Royalty Pajama Party Gift Exchange:
Contestants and Visiting Royalty may participate in a gift exchange at the Pajama
Party by bringing one wrapped gift. Spending limit: $15. Gifts should be turned in
at registration, tagged as from you, and marked with approximate age range for appropriateness of gift.

2003 WEST COAST SPONSORS

Universal - California Directors network with sponsors to provide
contestants with extra titles and awards. We welcome and thank the
following 2003 West Coast Mini National sponsors & contributors:
Pride of Pageantry National Pageant Magazine, James Blakely Photography, and Occasions to Remember. These and any other sponsors
will be featured in the 2003 West Coast Mini National Program Book.

Click here for additional Mini National Information

Click here to download your own copy of the paperwork!