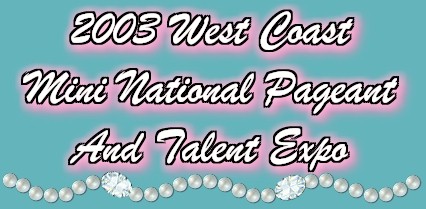 General Information
Contestant Age Divisions:
If your child's birthday has just passed, within 30 days of the pageant, you may
choose to compete in either division. Any contestant may choose to move
up an age division, but may not move down an age division.
Girls: Miss Divisions: 0–18 months, 19-35 months, 3-4 years, 5-6 years, 7-8 years, 9-10 years, 11-12 years, 13-15 years, 16-19 years, 20-26 years,

and Ms/Mrs.

We may elect to split or combine any division based on entries!
Boys: Age Divisions will be determined based on entries – boys compete for same supreme titles as girls. Boy Supreme Beauty or High Point Title may be added if
entries permit.
Beauty/Formal Wear Attire
Baby girls through age 8: wear short party or pageant dresses with dress shoes,
anklet socks, and no nylons. Hair bows are allowed on babies. Choose dress color
that is flattering to your child and fits well. Girls, ages 9 and up: wear short, long
or tea length, prom or pageant gowns, nylons and dress shoes. Choose gown
color that is flattering to your child and fits well. Boys: suit, Sunday best, or
tuxedos. No tennis shoes. Attire is not scored.
Hair and Make-up
Make-up is not necessary for children under age 3. Make-up should be age
appropriate and enhance natural beauty. Heavy makeup and dark lipstick colors
are not recommended. Pageant hairstyles are acceptable. Pageant hair/make-up
artists will be attending. Contact us if you are interested in making a hair and
make-up appointment. We can give you the list of which ones we know are
attending for you to make your own arrangements. We are not directly affiliated
with them, however, if interested we are happy to provide information on who
will be attending. Hair and Make-up is not scored.
Talent and Modeling Categories:
Costume or modeling outfit of choice. Hats, gloves, and props are allowed.
Glitz, rhinestones, trims, bows etc. are allowed on party/formal wear, talent and modeling outfits. Attire is not scored in any category.
Photography
James Blakely is the official photographer for this event. He offers many packages available to suit your needs. No cameras will be allowed in the ballroom.
Crowning Titles and Awards:
We will not double crown titles at the pageant with the exception of Program
Book Cover/Centerfold/Back Cover titles, Pride of Pageantry Photogenic
Supreme winners, West Coast Grand Ambassador, Photogenic & Glamour awards.
In addition to any of those titles, you be awarded the one highest title won at the pageant.
Judges:
West Coast Mini National Pageant & Talent Expo will be judged by a qualified, experienced, and impartial panel of judges. Individual judge scores are reviewed
by the pageant auditors. In the event of tied scores, winner will be decided by
judges. All judge decisions are final!
Judge scoring criteria for all events is included in your entry packet.
PARTICIPATION GUIDELINES
1. All contestants and their families are expected to be role models while at the pageant. This entails exhibiting good sportsmanship and ordinary polite
behavior at the pageant. Poor sportsmanship, rudeness to anyone including
hotel staff, gossiping, abusive language, disciplining children in an abusive
manner, and use of alcohol, tobacco or illegal drugs in the competition area or dressing rooms are grounds for dismissal without refund from the pageant.
We also reserve the right to refuse entry to anyone at our discretion.
2. All guests are asked to applaud for each and every contestant on stage. There
is no advantage or excessive clapping for any particular contestant. So please
make every contestant feel welcomed and appreciated.
3. Baby divisions are escorted on stage by the contestant chaperone.
4. Contestants and families may not approach or speak to the judges prior to or
during the competition. Judges will wear identifiable "judge" badges.
5. Adult Chaperones and Guests are asked to wear their badges at all pageant
events.
6. Directors, hostesses & pageant staff are available throughout the pageant to
assist you.
Scoring Guidelines
Scores are distributed immediately following the Crowning/Awards Ceremony.
Note: there is no score for attire. No point reductions for crooked or missing teeth. There is no comparison between contestants or line up. Each contestant is judged individually.
Beauty Scoring
9.5 – 10.0 Beauty
9.5 – 10.0 Poise
9.5 – 10.0 Personality
9.5 – 10.0 Overall package
Glamour/Handsome Scoring
9.5 – 10.0 Judged during Formal Wear on Facial Beauty/Handsome only
Photo Competitions
9.5 – 10.0
Talent/Commercial Scoring
9.5 – 10.0 Ability
9.5 – 10.0 Showmanship/Stage Presentation
9.5 – 10.0 Technique
9.5 – 10.0 Overall package
Points will be deducted for a voice on the background tape singing the main vocals for a vocalist, background vocals are fine. Baby contestants: The point system is the same. 0-3 may have main vocals on the background tapes. An adult must accompany babies on stage.
Modeling Scoring
9.5 – 10.0 Modeling Ability
9.5 – 10.0 Poise
9.5 – 10.0 Personality
9.5 – 10.0 Overall Package
Contestants wear outfit of their choice. Modeling is Free Style, runway or pro am style allowed. Anything goes as long as it is in good taste. We will provide upbeat music, including country western music for western wear.
Click Here to Enter On Line
Click here to download your own copy of the paperwork!