Universal Miss & Master – Model Search & Talent Expo Entry Form

Complete one entry form for each contestant. Mail completed forms with a $50 minimum deposit postmarked by 9/23/03 to be pre registered and assigned to divisions. Unless otherwise requested the early entries are placed at the end of division line ups. If entered in any Value Package by 9/23/03, contestant receives a FREE PAID ENTRY to Overall Most Beautiful, supreme title. ONLY the pre registered VALUE PACKAGE entries are eligible for this title. Please do not mail entries past 9/23/03! Please contact Director if planning to turn in entry forms and register on the day of the event.
Pay by money order or certified funds only. Personal checks are not accepted! Mail entry forms with deposits or full payment to: Universal CA, PO Box 3038, Napa, CA 94558.
Any questions? Contact: Mary Jean by email at UniversalCA@aol.com or phone (707) 255-7836.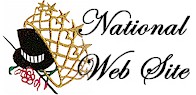 Universal Miss & Master Web Sites in your area:
[AL] [CA] [CO] [N. FL] [FL] [ID] [MS] [OR] [WA]
This site is brought to you by
Designs by Nicole Miller